09:40 27 May 2021
Zakarpattia, with National Space Center's participation, creates a map of polluted rivers
In Zakarpattia, state eco-inspectors are creating an interactive map of polluted rivers, working with the National Center for Space Management and Testing.
The Head of the State Ecological Inspection Andrii Maliovanyi announced this, Ukrinform reports.
He said that in Zakarpattia, the State Ecological Inspection was involved in creating an interactive map of coastal protection strips, which will display the locations of high-risk facilities: landfills, filtration fields, warehouses, industrial waste, and more.
This map also shows garbage jams and nets for catching garbage on rivers.
According to the head of the State Ecological Inspection, Hungary constantly complains about Ukrainian garbage; its waste enters the Tisza River, which has a length of over 200 km in our country.
"Tisza is fed by mountain tributaries such as Borzhava and Tereblia. They carry thousands of cubic meters of garbage into a large river, and it delivers waste to the neighboring state. According to the Hungarian ambassador to Ukraine, in the first months of 2021, Hungary received 1,500 cubic meters of garbage across the Tisza, which is of Ukrainian and Romanian origin. The fact is that previously such volumes of waste were accumulated throughout the year, that is, these data show that the amount of garbage in the Tisza is increasing," Maliovanyi said.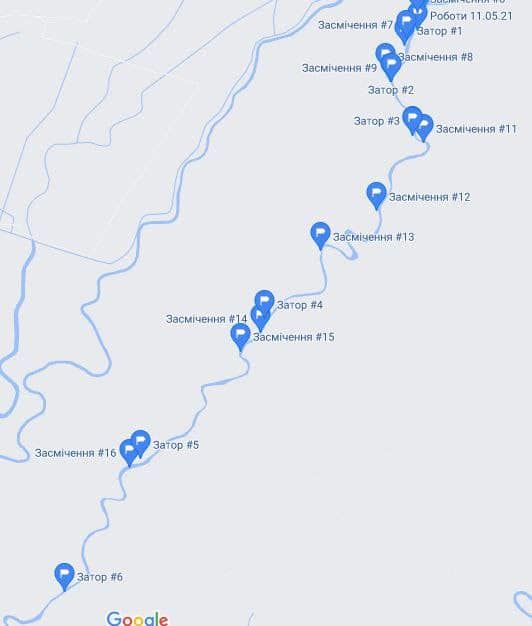 According to him, state inspectors are inspecting the coastal areas of rivers and floodplains to solve this problem.
Satellite data is also used to detect unauthorized landfills within cooperation between the SEI, the National Center for Space Management and Testing, and the State Ecological Academy. Satellite data helps detect debris on rivers and new unauthorized landfills on banks and floodplains.